An exciting offer from HR organisation to business
The role of HR in an organisation has been debated for the last two decades. The HR organisation which earlier used to be "personnel" function took care of just transactional and administrative activities. As the people function in the organisation became more complex, the role of the HR Generalist emerged to handle talent acquisition, total rewards, performance management, training, and HR technology.
Ever since the new service delivery model was introduced by HR guru David Ulrich, the HR role has emerged to be transformative and improving the effectiveness of HR transaction and thereby re-allocating more time and resource for strategic HR services. The world class HR organisations include these three elements,
– HR service centre,
– Centre of excellence (CoE), and  
– HR business partner.
Today HR organisations, partner with business to deliver strategy, to enhance profits, implement business plan and support business development. The world class HR organisation spends its maximum time in business partnering while the HR transactional activities are automated and no time spent on being an administrator or gatekeeper.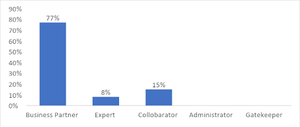 Though the success of any entrepreneurial venture primarily depends on effective management of human resources, study suggests that today' entrepreneurs spend most of the time managing people and finances. Because of this, they miss out spending their time in strategic planning and business development. Solving this puzzle, the right way is very critical for the success of the business.

Eucto offers HR business partnering solution ensuring your enterprise and your entrepreneurial venture experiences world class HR solution. We promise to make your organisation a great place to work for every employee. Eucto business partner will journey with you supporting to deliver your business strategy resulting in organisation and business development. Also, this effective HR solutioning will allow entrepreneurs spend time in implementing strategy and enhance business development.
Out Latests post
Stay updated with our latest posts
In the recent days companies have changed their mode of operations and the way they work. The only business depa
Is college a place to get a degree? No. College is a place to figure out what your interest is. Graduates land i
Have you ever come across a friend or a coworker attempting suicide due to the pressure of working overtime? Not